Welcome to Shop Talk with Vertical Motion Inc. This month we're recapping the biggest business, technology, community, and space headlines, events, and stories from September.
Warp Speed Ahead with September Quick Reads
Amazon.com Inc, announced on Wednesday, September 21st, that it aims to power its global business with 100% renewable energy by 2025. The company anticipates totalling 379 renewable energy projects generating 50,000 GWh. This is equivalent to producing enough energy to power 4.6 million US homes annually.
Hilton Worldwide Holdings Inc., in a joint statement on Tuesday, September 20th, announced its partnership with Nanoracks, Voyager Space, and Lockheed Martin to design the architecture of Starlab. Starlab is one of a set of private space stations that NASA hopes will replace the International Space Station.
Adobe Inc. made an official press release on Thursday, September 15th saying that they have entered into a definitive merger agreement to acquire Figma for approximately $20 billion in cash and stock.
Apple Inc. selected American communications company Globalstar, Inc., on Wednesday, September 7th, as its Low-earth orbit (LEO) satellite partner for a new feature that will allow iPhone 14 users to send emergency messages from remote locations. Apple plans to invest $450 million to fund the manufacturing of the needed infrastructure for the satellite message feature, which will be available to users in November.
Patagonia, Inc. founder Yvon Chouinard, his spouse Malinda, and two adult children Claire and Fletcher have transferred company ownership to a newly created trust and nonprofit. The company's estimated $100 million annual profits will now go towards addressing climate change and protecting undeveloped land around the globe.
Apple Inc. Launches iOS 16 | Here Are a Few of Our Favourite New Features
iOS 16 brings users all-new personalization features, improved intelligence, and enhanced communication. Credit: Apple Inc.
On Monday, September 12th, Apple Inc. launched its latest iPhone operating system iOS 16 with over 100 new enhancements and features. Originally unveiled in June at Apple's Worldwide Developers Conference (WWDC 2022), iOS 16 has been long anticipated as many Apple users are excited about the new features and enhancements brought to the iPhone. Below are a few of our favourite features from iOS 16.
Messages
Edit or recall sent messages, recover recently deleted messages, and mark conversations as unread to read later.
Photos
Share photo libraries with your family, collaborate on editing, favouriting, and captioning images, and relive shared photos in Memories, Featured Photos, and the Photo widget.
Link specific lock screens and widgets to a particular Focus, set filters to receive important notifications, and set automatic schedules to find a better balance with your device.
Lock Screen
Personalize lock screens with multilayered effects, new type styles, and Apple Watch-inspired widgets.
Health
Create medication lists, set custom reminders, quickly add new medications with your iPhone camera, and log when you've taken your meds to never miss a dosage again.
Add multiple stops along your route, check transit fares, and manage transit cards including replenishing balances, all without leaving Maps.
"iOS 16 is a big release with updates that will change the way you experience iPhone. We have reimagined how the Lock Screen looks and works with exciting new features that make it more personal and helpful, introduced iCloud Shared Photo Library for families, streamlined communication through new capabilities in Messages and Mail, and harnessed enhanced intelligence with updates to Live Text and Visual Look Up."
New Project Aims to Modernize C++ through an Alternative Syntax
Cppfront is an experimental compiler for an alternate C++ syntax. Credit: Digital World
Highly acclaimed open-source programming language C++ may be receiving a much-needed upgrade thanks to a new proposal named Cppfront. Led by Microsoft software architect, C++ feature designer, and chair of the ISO C++ committee Herb Sutter, Cppfront is an experimental syntax 1 to syntax 2 compiler that hopes to make C++ simpler and safer for developers to work with. The alternative C++ syntax would allow for backwards-incompatible but desirable changes to language semantics to be made (e.g. greater memory safety, requiring return values to be saved or explicitly discarded, avoiding order dependence). Furthermore, the proposed alternative syntax would be easier to refactor and to parse. Although Cppfront remains a work in progress, many are hopeful that C++ can evolve to offer an improved experience for developers and clients alike.
The Benefits & Technology behind Quick Response (QR) Codes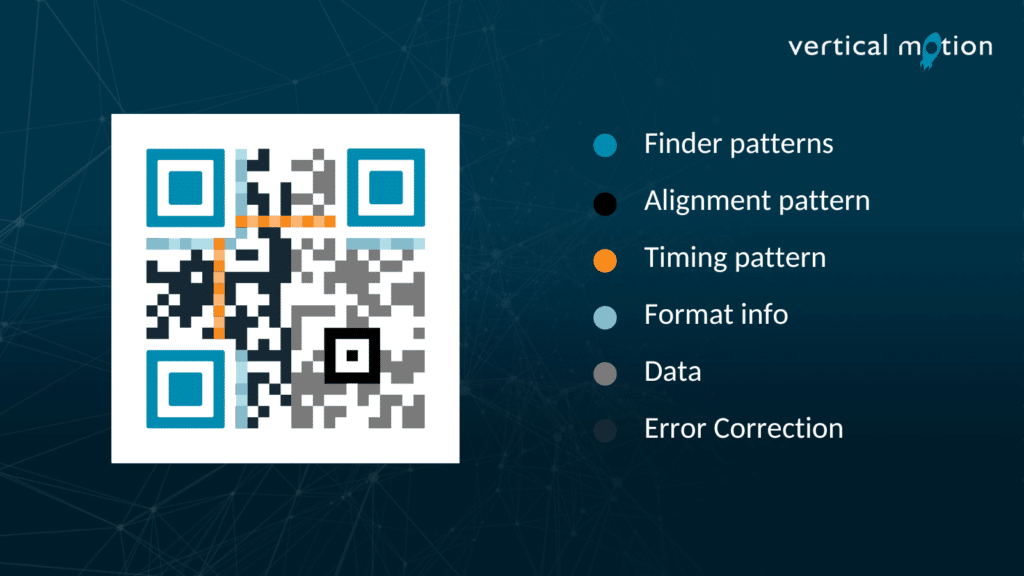 The components of Quick Response (QR) codes as described by Daniel Hollick. Credit: Vertical Motion Inc.
Since the invention of the Quick Response (QR) code in 1994 by Toyota subsidiary Denso Wave, companies around the world have used its technology to transform the way they do business. From tracking labels to marketing promotions and everything in between, the free-to-use QR code technology has made it easier than ever to access information. But, have you ever wondered how they work?
In a series of tweets made on September, 14th, Product Designer Daniel Hollick answered this very question by demonstrating the strategic design behind this ingenious technology which inspired Vertical Motion Inc. to share his findings (see below) as well as our own experience using QR code technology. For several years now, Vertical Motion Inc. has utilized QR codes in the development of client applications including Admazing Savings, BBB Connect, eTrove, and GolfPass for 4 main reasons.
Accessibility — Users can easily open their smartphone camera and scan the code without hassle
Simplicity — No complicated programming languages are needed to generate a consistent user experience
Versatility — QR codes can be successfully applied to any industry or business
Flexibility — QR codes can be updated in seconds allowing for quick changes and easy editing
Thanks to these 4 benefits, Vertical Motion Inc. has successfully deployed several applications that satisfy the needs of our clients and their key stakeholders. If you would like to learn more about QR codes or are interested in how they can help your business, contact us today.
Also known as position detection patterns are located in the 3 corners of the QR code. This allows the reader to determine the position and orientation of the code.
Depending on the version of the QR code, there may be one or more alignment patterns. This allows the reader to determine the possible perspective distortion of the code.
Are formed by a sequence of alternating dark and light cells. The timing pattern determines the width & number of cells in the QR code to indicate the full size of the code.
Stores information on error correction & masking. This is stored twice in the code so that it is readable even when the code isn't fully visible.
Begins in the bottom right corner moving to the top left. The first block indicates the data mode & the second block indicates the length of data.
Stores data so that the code can be read even when partially obscured.
Time Travelling with Vertical Motion | September Historical Events
A look back at the major events in September's history. Credit: Vertical Motion Inc.
September 3, 1995 — Technology entrepreneur, software engineer, and billionaire philanthropist Pierre Omidyar launches AuctionWeb (later renamed eBay in 1997) from his San Jose, California home, where he listed his broken laser pointer as the first item for auction.
September 4, 1998 — Larry Page and Sergey Brin incorporate Google Inc. after receiving a cheque for $100,000 from Andy Bechtolsheim. Following this, Page and Brin upgraded their workspace from their Stanford University dorms to their first office in a garage in Menlo Park, California.
September 12, 1958 — American Electrical Engineer Jack Kirby demonstrates the first working integrated circuit (IC) for Texas Instruments. Despite this, Intel co-founder Robert Noyce's 1959 monolithic integrated circuit proved more practical due to its silicon construction, awarding Noyce the first IC patent.
September 13, 1985 — Nintendo releases Super Mario Bros. for the Nintendo Famicom console. The game would sell 40.24 million copies worldwide since its release, positioning itself as the second best-selling Mario video game worldwide.
September 23, 2008 — The HTC Dream is released as the first mobile phone featuring the Android operating system (Android 1.0), which included a suite of early Google apps like Gmail, Maps, Calendar, and YouTube. 
Vertical Motion Inc. is a trusted Canadian software development and entrepreneur assistance company that has supported the global efforts of startups, non-profits, B2B, and B2C businesses since 2006. With headquarters in Calgary and Kelowna, and team members coast to coast, Vertical Motion Inc. is recognized as an award-winning leader in the technology industry. Our team of executive advisors, project managers, software developers, business analysts, marketing specialists, and graphic designers have extensive experience in several industries including — Energy, Finance, Blockchain, Real Estate, Health Care, Clean Technology, Clothing & Apparel, Sports & Recreation, Software as a Service (SaaS), and Augmented & Virtual Reality (AR/VR).
Come chat with us and let us take you "From Idea to Execution and Beyond!" 🚀