Calgary & Kelowna Based Software Developers
Let's build something awesome together.
Our software development team specializes in building native, hybrid, and progressive web applications (PWA) for business-to-business (B2B) and business-to-consumer (B2C) organizations. We have over a decade of industry experience in creating custom Web, iPhone, Android, and Windows solutions across all industries including Energy, Finance, Blockchain, Real Estate, Health Care, Clean Technology, Clothing & Apparel, Sports & Recreation, Software as a Service (SaaS), and Augmented & Virtual Reality (AR/VR).
Business to Business (B2B)
Whether you're out for a lunch meeting with clients, looking for a quick status update, or checking on operations while away, mobile applications have made it easier than ever to work on the go. With unrivalled functionality and seamless integration, businesses can feel confident knowing their employees are equipped for success from anywhere. At Vertical Motion, we put power into the palm of your hand by planning, designing, developing, and testing mobile applications that improve enterprise productivity, efficiency, and employee satisfaction.
Business to Consumer (B2C)
Consumer demand for improved productivity, efficiency, and performance is a major driving force in the Canadian economy. However, the process of launching a new business or application can feel intimidating for first-time and experienced entrepreneurs alike. With Vertical Motion, you can rest assured knowing that it's okay not having all the answers. No matter if your idea is written on the back of a napkin or in a detailed requirements document, our team will assist you in planning, designing, developing, and testing your mobile application.
Custom Software Development
Everything fits better when it's custom
At Vertical Motion, we plan, design, develop, and test custom software solutions to improve organizational efficiency, eliminate operations roadblocks, and enhance team productivity. Our experienced professionals will work with you to evaluate your day-to-day operations and identify the key functionality needed in your one-of-a-kind solution. We can also integrate third-party technology through application programming interfaces (APIs), which reduces development costs and ensures a smooth transition away from existing solutions. Whether your business needs a new customer relationship management system (CRM), enterprise resource planning software (ERP), or a first-of-its-kind SaaS solution, our Vertical Motion team is ready to help.
Promoting your business 24/7
Your online web presence is often the first opportunity to make a good impression on your target audience. At Vertical Motion, we want to make it a positive and memorable one.
From search engine optimized (SEO) websites to user-friendly web applications, our team of developers, UI/UX specialists, and project managers are here to assist you in developing a professional, universally accessible, and mobile-friendly software solution.
Unlike native applications that run locally on device operating systems, web application software delivers exceptional performance through internet connectivity on any device. Whether you're using a smartphone, tablet, or computer with an iOS, Android, or Windows operating system, our sophisticated software solutions will automatically adapt to fit the parameters of your screen, delivering an unrivalled experience for all users.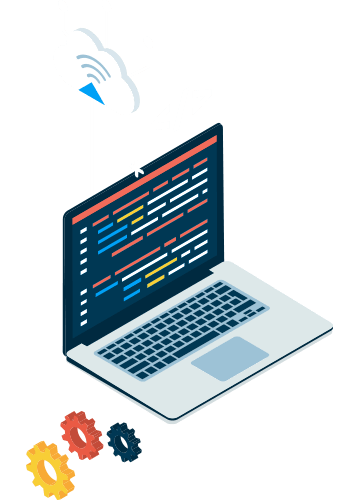 All
Custom Software
Mobile Applications
Web Applications